25-11-2012
There's a great piece on the BBC Radio 4 Website about "Poor reporting" in which Storyville editor Nick Fraser "looks at what it takes to get people in the rich world engaged in the issue of global poverty". The documentary is part of the Why Poverty? documentary project.
The radio programme document's Fraser's trip to New York to find out more about why poverty is rarely these days on the media agenda. The blunt answer it seems is that poverty is not as entertaining as films like Man eating super croc, one of the films made by Michael Hoff of Hoff Productions whom Fraser interviews. Having done some recent reading around this subject area, it will be interesting to sift through the Why Poverty? films and look at exactly what the films are advocating in terms of solutions. There is now a growing argument amongst some academics that aid is not the solution to the problems faced by the developing world (see Collier, Moyo and Dowden for comments on this), yet there is still much that the developed world can do and is responsible for in tackling the issue. Using this documentary series across 50 broadcasters to raise awareness in 500 million people can only be a good thing.
To listen to Fraser's documentary, follow this link.
24-11-2012
I have been looking at how to move my MA project forward and doing a fair amount of reading to understand more about how documentary is moving forward and how this might impact it use in a development context.
While researching this idea, it occurred to me that of course documentary has in fact always had a long association with cutting edge technology. Since the very early days of film production in the late 1800s, documentary filmmakers have seized upon the latest incarnation of the film or video camera to tell stories, educate and create their content. But up until this point it was film technology itself that was the technological wonder, capturing action and recording events like never before. Film cameras, miraculous though they were, were big and bulky 35mm machines, and although Eastman Kodak introduced a 16mm film stock in 1923, it was not until 1960, that a real revolution in filmmaking technology liberated and empowered the documentary filmmaker. The technology combined a portable, silent 16mm film camera and the Nagra crystal sync audio recorder, allowing filmmakers to record location sound that synced with the film pictures easily, techniques pioneered by filmmakers like Richard Leacock and Jean Rouch.
This story has itself been captured on film in a BBC film by Mandy Chang The Camera that Changed the World. The film is available to watch via Live Leaks and is very well worth watching for anyone interested in the history of documentary.
Part two is here and part three here.
Enjoy!
20-08-2012
I have slowly being trying to add more film material from this blog.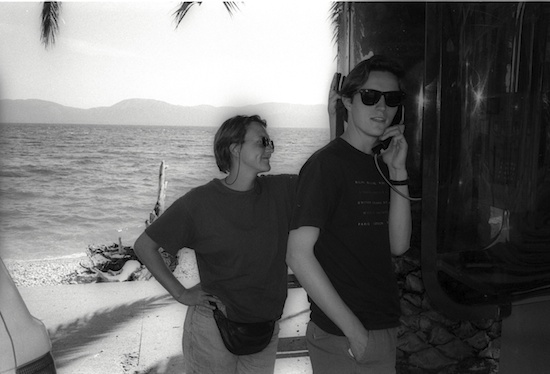 This is a film that I shot for director Mary Currie in Gornji Vakuf. The town, in western Bosnia, once shared by all communities was divided along ethnic lines by the fighting. In this film both sections of the community reflect on these divisions and lament the breakdown of their communitiy.
As a piece, the film is a classic UNTV project, notably because both sides were given the chance to speak and despite the underlying bitterness, the film contained messages of hope. Without the pressures of a news deadline and with access to all sides of the conflict, UNTV had time to make well crafted, thoughtful films and this film is a good example of these high production values. However, as I have noted in my essay, this approach was to change as the conflict developed in 1995 and UNTV found itself reporting on live events, such as the arrival of refugees from Srebrenica and the Croatian Army's Operation Storm.
UNTV586A GorniVakuf315 from Andy Johnstone on Vimeo.
Special thanks again to the Imperial War Muesum for permission to include these films on this blog.
20-08-2012
I owe a big round of 'thank you' 's to all my friends and colleagues who responded to my pleas from help through this blog, but submitting comments and e-mailing me with ideas for this UNTV essay project.
My essay has now been submitted and assessed by my tutors - I was awarded 72% for the piece, so I am naturallly pretty chipper about the result. If you are interested in having a read, then please download the essay by clicking on the PDF icon link at the bottom of this post.
Because UNTV has receive so little scholarly attention ("still hasn't" I hear some of you wags chortling), I am hoping to submit a version of the essay to some academic journal or other at some point. If this happens I will make some minor revisions as suggested by my tutor Dr Claire Monk at De Montfort University, but for now this version is the full "warts and all" piece submitted for the assessment.
Time now to move on to my next subject area. I am hoping to look more closely at how technology and social media have advanced to the point where audiences and people appear to be able to set the agenda in development. Nearly every BBC report from the current situation in Syria is peppered with footage submitted via mobile phone, with the reporter hastily adding that the broadcaster 'cannot independently verify the authenticity of this material' - but the material still gets screened. How can more formal producers of documentary film complete with that? Or is documentary just a vital component of these changes, a component which is being adapted to fit a new medium? How are or how could these approaches be adapted to drive change in other areas of international development such as health or water and sanitation?
31-07-2012
I shot this film in January 1995 for director Leigh Foster when I was working as a staff cameraman for UNTV in Zagreb, Croatia, during the war in the former Yugoslavia.

Shot on Beta-sp, during the hard Bosnian winter, the film looks at the elite French Chasseur Alpin regiment who patrolled the demilitarised zone on Mount Igman for the United Nations during the war. Mount Igman was famously the site of the 1984 Winter Olympics. The high ground overlooks Sarajevo and was a perfect position from which to control the town with heavy weapons.

The film is a good example of the kind of work that the UNTV unit produced. High production values, great access and an interesting story. However, since the films were all designed for broadcast on the local networks, subjects were approached with a neutral editorial line where everyone was a victim and this often meant that stories were subsumed by he need to try and find balance. UNTV was also tasked with trying to pait a positive picture of the UNPROFOR mission, whcih given its numerous failings was not always easy.

Special thanks to the Imperial War Museum for permission to screen this film.